Peace of Eden, Recording Studio, Knysna
Music Studio
Peace of Eden Music Recording Studio is set alongside enchanting forests just outside Knysna in the heart of the Garden Route, South Africa. A SAMA award winning Recording Studio with Producer and Engineer Howard Butcher.
He has recorded some of the best Guitarists and Singer songwriters in South Africa, like Derek Gripper, Guy Buttery, Nibs Van Der South, Steve Newman, Wendy Oldfield and the legendary Blues artist Dan Patlansky plus many many more, including overseas Artists who have visited the Studio like Nik & Simon from the Netherlands, & Dave Depper, Laura Berns from USA
Howard is revered for his ability to get the most amazing clarity and sound from Guitarists, Vocals and drums and has received accolades from as far afield as Harvard Music Lecturers in America.
He has recorded many projects and worked on outreach projects like Mzakes and has assisted Bridges for Music in Langa Cape Town with Sound, Studio desk design and technical expertise.
The Studio specialises in creative project work and also does Voice over recording for many Advertising Companies and individuals both here and from the UK
Legendary collection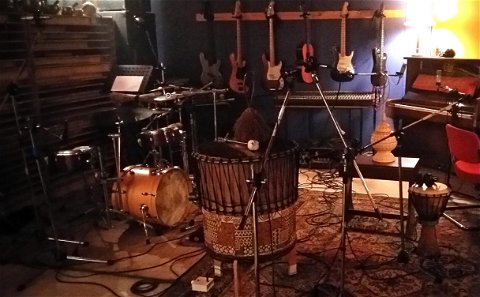 Creativity in nature
The Studio records Dub-step to psych-rock, jazz to acoustic folk and almost everything in between, we are the quintessential South African project recording studio with accommodation. We've recorded, mixed, mastered, produced and published over 67 albums providing a relaxed, creative environment that beckons you back.